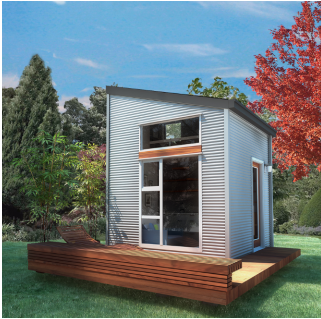 "The best way to predict the future is to design it" - Buckminster Fuller


Unique

NOMAD's designer Ian Kent has certainly pushed the size limits of a liveable house. By incorporating an innovative staircase and varying ceiling heights as well as maximizing natural light, Ian was able to prevent this home from being claustrophobic. "I knew that effective design could make a space this size feel comfortable. My goal was to produce an efficient yet cozy home with minimal impact on yard space and the environment". 35 years of design and home-building experience provided the answers. NOMAD's living room, kitchen, bathroom, stair, bedroom, and storage are all seamlessly integrated: a stair doubles as a kitchen, a window adds light to one area and a higher ceiling to another, a bathroom doubles as a shower, storage that can be used as seating, and so on. These features are not obvious at first glance, but each one is essential to NOMAD's livability.

The NOMAD concept expanded considerably when Ian opted for home assembly rather than factory construction; this significantly reduces the purchase price. NOMAD arrives at your doorstep in flat-packed form, enabling easy shipment anywhere around the world.


Adaptable

True to its name, NOMAD can move and adapt to almost any location. It is termite, moisture, and fire resistant, and its strong, lightweight structure facilitates both easy construction and reduced shipping costs.


Sustainable
Converting to a more sustainable lifestyle and finding alternatives to public utilities is a significant challenge to tiny home owners. Justifying up-front costs, choosing the right products, and finding reliable installers are the main factors involved. Recognizing these issues, Ian worked closely with NOMAD's engineers to complete this research and assemble an optimum sustainability package that's custom designed for the NOMAD Micro Home. Flexibility is also a major component of this package, allowing NOMAD to adapt from various levels of available services to complete off-grid living.


Flexible
The myriad uses for a NOMAD Micro Home are limited only by your imagination. From a practical backyard studio or home office space to an extra guest suite on a recreational property or resort, accessible quarters for students and employees or charitable low-income housing, easily transportable accommodation to remote communities or areas needing disaster relief, even affordable housing alternatives for developing nations. . . NOMAD Micro Homes can be used singly or combined in modules to specifically address your specific requirements.